This page may take some time to download.

If some photos do not appear, please click Refresh, that action oftentimes helps.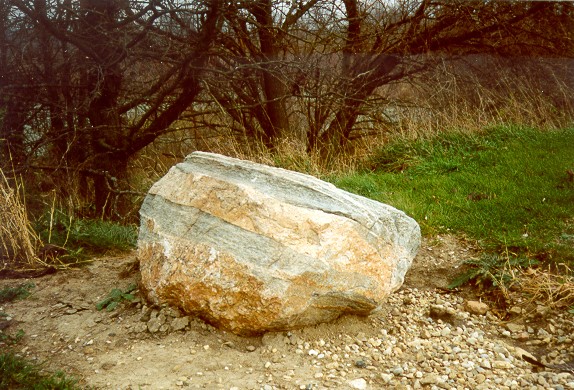 Boulders such as this are a common sight over much of northeastern Illinois.

They are called Glacial Erratics. 'Erratic' because they are different than the local bedrock.

Many are specimens of Igneous or Metamorphic rock carried by the glaciers from exposures of the Canadian Shield.

Some are Sedimentary rock gouged from what is now the floor of Lake Michigan.
Click the photo for more information from the Illinois State Geological Survey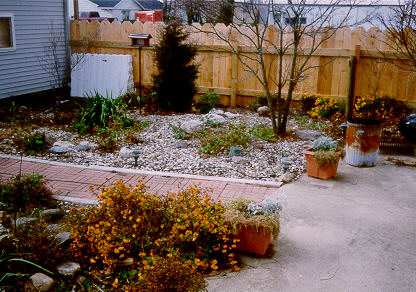 Erratics of various sizes are often used for landscaping.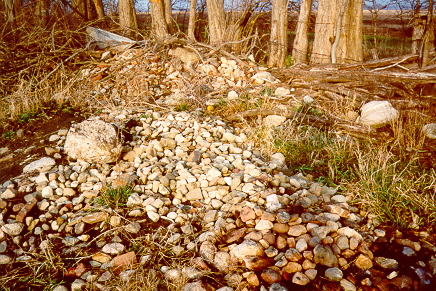 Erratics are not particularly the farmer's friend
-- each spring a new crop of erratics appears in
the fields due to the frost action throughout the winter.

Piles such as this one make a great place to make
a rock collection.

Thanks to the glaciers, we have a huge and varied
selection of all 3 rock classes.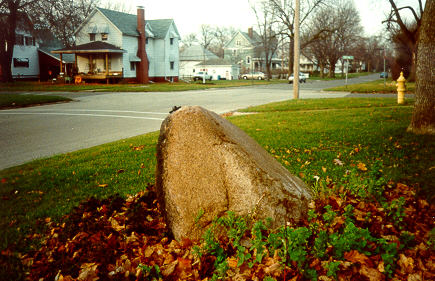 This erractic shows glacial scouring and flattening.

It was used as a hitching post -- note the ring in the top.

50 years ago it stood somewhat more vertically!

Gravity and mass wasting do have an effect.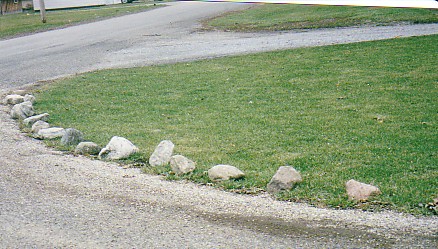 Neighbor Marty uses erratics to
keep traffic on the street.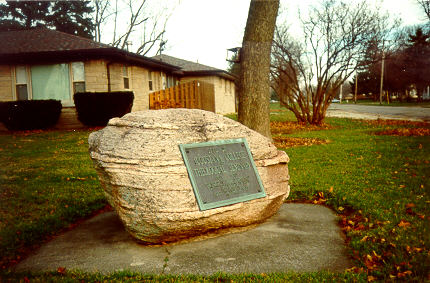 Some erratics are used as monuments.

Note the layers of feldspar injected
into the granite.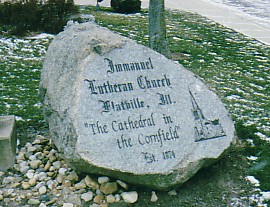 Creative use of an erratic in Flatville, Illinois.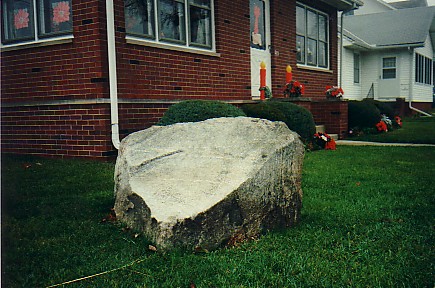 Erratics make attractive landscaping.

A local excavator sold an erratic to someone
in a metropolitan area for several hundred
dollars . . . including transportation.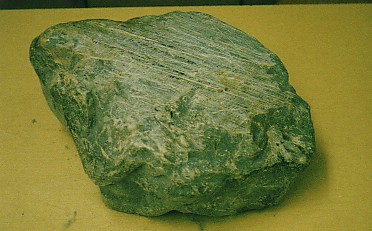 Niagaran Dolomite?

Flattened sides with scratches
called striations.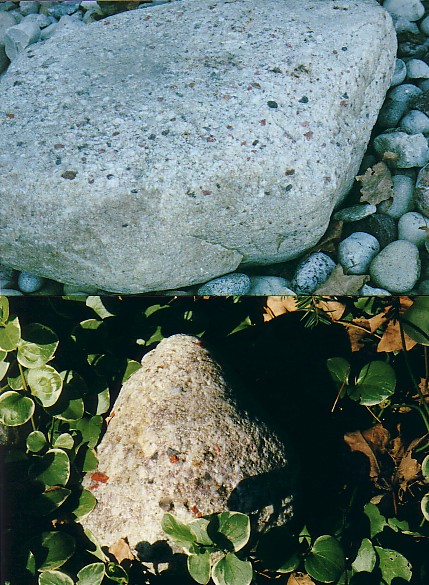 Quartzite Conglomerte with red pebbles of Jasper.

One of the more unusual erratics to be found.

(The larger specimen appeared from till when a water line
was being installed)

The bedrock outcrop of this quartzite has been located in
Ontario, Canada.

Click photo for more information.
Photos of erratics located at Ten Mile Grove
west of Paxton, Illinois along Illinois Route 9.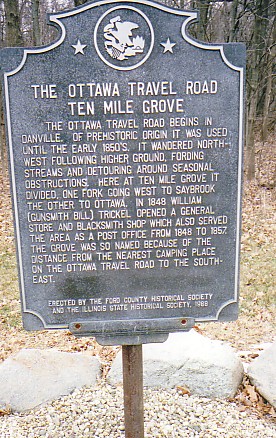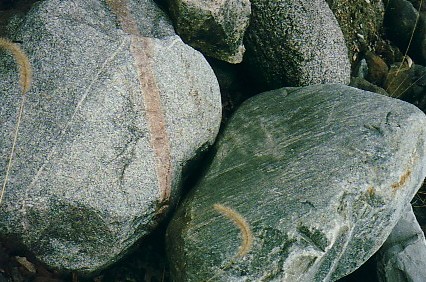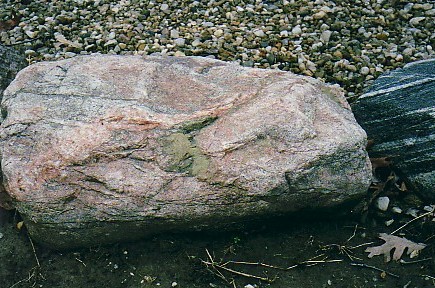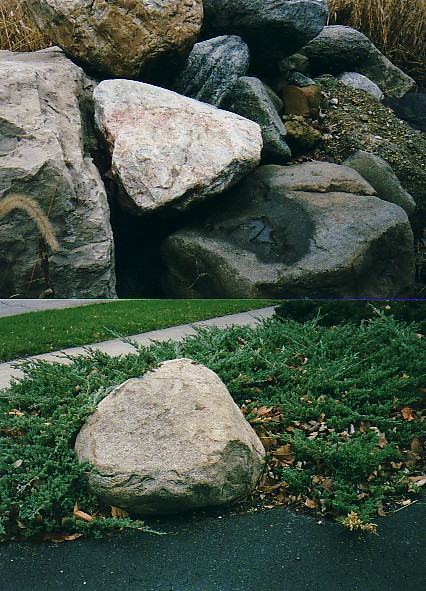 (Erratic at a parking lot
in Decatur, Illinois.)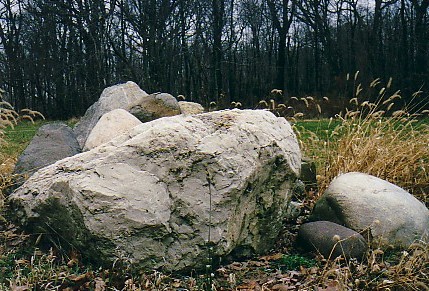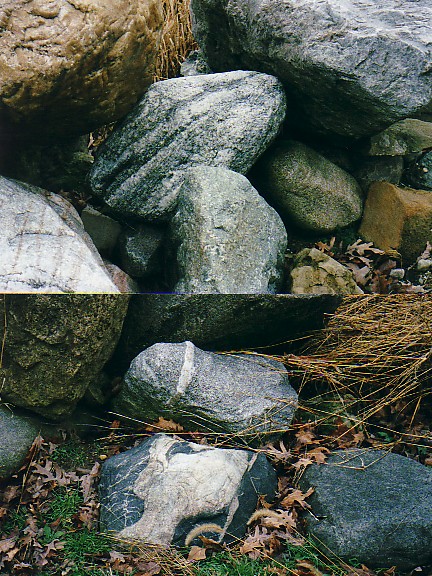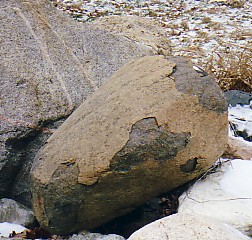 Chemical weathering causes exfoliation in a basic igneous erratic.

The dark ferro-magnesium minerals in this (Diabase?) weather more quickly than those in lighter acidic granites.

The majority of this rock is composed of augite and hornblende -- among the first minerals to crystallize from a cooling magma.

Exposed at the surface, they encounter conditions extremely unlike those in which they formed -- in an attempt to regain chemical 'balance' -- weathering occurs rapidly.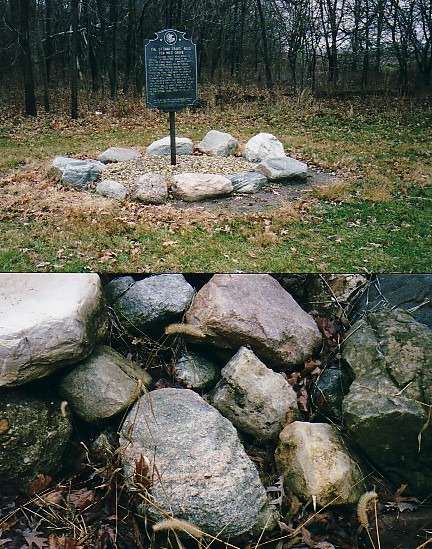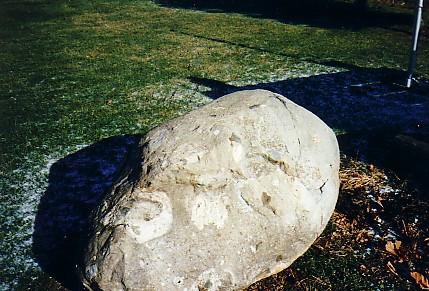 Without question, the strangest erratic I have ever observed.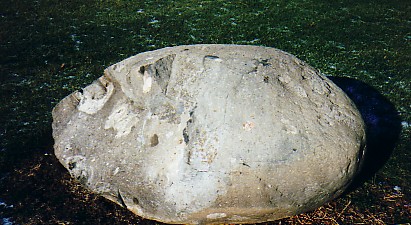 Is this a tillite -- or possibly an impact breccia?

Canada was impacted by meteors in the geologic past -- it is difficult to imagine some of the resulting rock material has not been transported into Illinois.

Dunno.